Here is some of what the School Committee accomplished in my time on the Committee, with the LPS team: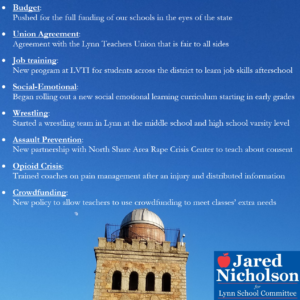 Link for more on the new Job Training program
Link for more on the Social-Emotional learning curriculum
Link for more on the Assault Prevention work
Why I'm Running            
I believe in the Lynn Public schools and all that is possible for our children. My wife and I plan to raise our family in Lynn and we want to send our future kids to great public schools.
I also feel strongly that improving our schools is key to creating jobs and economic growth in Lynn. Great schools:
Broaden opportunities for the city's youth
Attract new businesses that know the value of good public education
Encourage young families with a lot to contribute to seek out and stay in Lynn
Contributing New Ideas              
I bring a fresh perspective and new ideas to the Committee, including:
Building pathways for students to college and jobs
We know that in today's economy, more school won't necessarily lead to a good job. One strategy for success is building more pathways for students from our high schools to college and jobs based on feedback from local employers.
Lynn already has momentum on this front. We start from an enviable position having our own vocational and technical school. We also have innovative programs in the Lynn Public Schools — such as the Cisco Systems training program that began at Lynn English and the partnership with North Shore Community College's CommUniverCity initiative to deepen NSCC ties in Lynn. The community has also chipped in with programs such as the well-respected E-Team machinist training for adult learners and employer site visits for teachers organized by the North Shore Workforce Investment Board.
Some concrete ways we are building on that momentum include offering more programs at Lynn Tech in healthcare, IT and HVAC, fields we know are growing. We are also exploring offering vocational programming for students at English and Classical who express an interest in career technical education. Finally, we should continue to evaluate and expand the Early College program to let more high school students jumpstart their pursuit of higher education by earning college credits while still in high school.
Helping students on their way to good careers is one of the many goals of a good public education system. It's also another way to keep students engaged in school, which contributes towards the system's other goals, like developing well-rounded citizens.
For more information about my ideas on this issue, please check out my Op-Ed in the Daily Item.
Making sure our students develop social-emotional skills in addition improving test scores
There is a common thread to feedback we are getting from both educators and business leaders – our public schools need to focus on students' social-emotional learning.
Social-emotional learning is also called non-cognitive skill development or even character-building. When a student feels overwhelmed or frustrated, how does he or she react? How can students work well with one another? What's their relationship like with their community and its civic life? What needs of a student are not being met and how can that be fixed?
Adding resources is the obvious way to expand and build on these programs, offering more programs districtwide or hiring more social workers for instance. While we work to make that possible, here are some ideas that would require smaller investments.
Older students who work could present to younger students about the skills they need to do well in different situations they encounter in their jobs. Schools that give students community service citations could add a special category for students who worked on a project together as a team.
The Lynn Public Schools District could add to its curriculum guides a detailed list of the social-emotional skills we want our children to be learning at each grade level with input from teachers, health care providers, parents, and, for the older grades, employers. That would remind teachers what to look for and give teachers from different departments, like math and music, a shared language to discuss their students' development. The District is planning to start with a guide for the early grades for the 2017-2018 school year.
For more information about my ideas on this issue, please check out my Op-Ed in the Daily Item.
Offering  more after-school activities
We now have a middle school and varsity wrestling team in Lynn. We need to keep finding ways to offer after school activities.
We have made progress on other issues including:

Addressing the opiates crisis — Adding pain management training for coaches, adding more prevention to the wellness curriculum and offering targeted wellness and prevention programs. For more information about my ideas on this issue, please check out my Op-Ed in the Daily Item.
Tapping into crowdfunding — We adopted a new policy to allow teachers to use crowdfunding
Adding student representation: The School Committee now has a non-voting student representative
Improving school nutrition
Parent access and engagement
School discipline reporting
A school uniform pilot in two elementary schools
Finally, the District faces serious challenges that require leadership today, chief among them rising enrollment and financial instability. I plan to continue to focus on those issues drawing on my legal training and business experience.
These are a few of the new ideas and issues that I am focusing on. I look forward to learning more about ways to improve our schools over the course of the campaign from students, parents, teachers, administrators and voters. Those conversations are the centerpiece of my campaign. Please feel free to reach out to me at jaredc.nicholson at gmail.com and (617) 780-6747.