2nd Annual
Lynn Shore Showdown
An amateur beach wrestling tournament. Come for the wrestling. Stay for the beach!
Date: Saturday July 22, 2016
Location: DCR's Lynn / Nahant Beach (in front of Ward Bathhouse)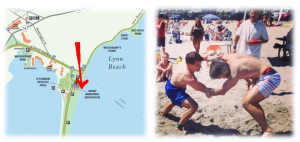 Sponsored By:

Time:
8:00 am – 9:00 am: Registration
9:15 am: Rules Clinic
9:30 am: Wrestling
Divisions*: Youth, High School, Open
Weight Classes*: Light, Heavy
*Exact groupings will be made based on number of registered wrestlers the day of the event.
Entry Fee: $25 for wrestlers ($20 if preregistered). Suggested $5 donation for spectators. Proceeds go to Lynn Public Schools wrestling, now offered at Marshall Middle School and all Lynn public high schools.
Registration:
www.bostonwrestling.org/store
Parking: Available for free along Lynn Shore Drive and for $5 at Nahant Beach.
Contact: jaredc.nicholson@gmail.com
More info on Facebook at https://www.facebook.com/events/1678122552454875/