Why I'm Running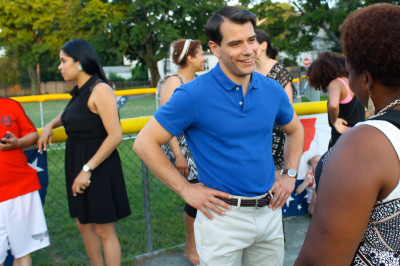 I'm Jared Nicholson and I'm excited to announce that I am running for Mayor of Lynn. I'm running to help with the recovery from COVID-19 and to provide leadership for growth that includes all Lynners.
I would like to thank Mayor McGee for his steadfast leadership, particularly during the unprecedented crisis of COVID-19.
Going forward, we need to continue to learn and adapt to beat the virus and heal from the pain it has caused us. We must also address our long-term challenges. We need better schools, better jobs, better housing, and more peace.
Lynn can be a factory of opportunity, where we break down barriers of race and class and make bright futures possible for all Lynners.
I look forward to a campaign full of conversations about the community's vision for Lynn's future.
More on:
Jared's Record On the School Committee
Better Schools
Issue
Our student population has increased by 8% over the last 5 years and 21% since 2008.
Nearly half of our schools are over 100 years old.
Jared's Record
Three terms on the Lynn School Committee, Chair of the Policy Subcommittee
Helped develop new initiative for students across the district to learn job skills after school at Lynn Tech
Founded wrestling program with teams at the varsity high school and middle school levels
Jared's Platform
Build new schools, starting with Pickering Middle School
Support the efforts underway to return to school safely and make up for lost learning and social-emotional development.
Continue to create more pathways to college and jobs and more afterschool opportunities
Better Jobs
Issue
Lynn's unemployment rate in February was 10.2%, 40% higher than the statewide rate.
Median household income in Lynn is $53,000, 40% lower than in Essex County.
The poverty rate in Lynn is over 1 in 6 residents, 40% higher than in Essex County.
Jared's Record
Law professor who works with and researches small businesses
Provided free legal assistance to Lynn small businesses struggling during the pandemic
Deep private sector experience working with new startups, big companies, and local businesses
Jared's Platform
Support local entrepreneurs for more growth from our community
Prepare Lynners for good jobs and bring more diversity to public jobs so that our agencies can better serve the community
Improve transportation for Lynners to get to good jobs
Support workers who are fighting to make their jobs better
Better Housing
Issue
Rent has increased 15% over the last year.
Almost half the city is considered "burdened" by their housing costs.
Jared's Record
Legal expert on housing and community development
Legal aid experience defending tenants from unfair evictions and foreclosures
Served on Steering Committee of the Housing Lynn plan
Jared's Platform
Support smart growth that's inclusive and sustainable
Protect renters from bad conditions in the existing housing stock
Make space for Lynners in new housing stock
More Peace
Issue
There were almost 350 opioid overdoses in 2019, down from 2018 but still very high.
Statewide, intimate partner violence accounts for 20% of all violent crime
Jared's Record
Pushed for curriculum with my colleagues that was adopted in Lynn Public Schools for social-emotional learning
Success in advocating for reform working with my colleagues to rethink student discipline policies
Established partnership between Lynn Public Schools and North Shore Rape Crisis Center
Jared's Platform
Address underlying mental health and social emotional needs in our community
Acknowledge and target the toll of intimate partner violence
Pursue vision of public safety that sends the right team with the right skills in the right moments
Racial Justice
Issue
Longstanding racial disparities in education, healthcare, law enforcement, immigration, housing, and the workplace block opportunities for people of color in Lynn.
While we were dealing with the impacts of a pandemic felt disproportionately by race and class, events and activism has brought the Black Lives Matter and Stop AAPI Hate movements to the forefront of our collective attention. This is also true in Lynn.
 Jared's Record
 Jared's Platform
Push for an equitable rollout of the COVID-19 vaccine and an equitable recovery for the economy
Work to eliminate gaps in student achievement by race.
Bring more diversity to public jobs so that our agencies can better reflect and serve the community.
Pursue vision of public safety that sends the right team with the right skills in the right moments.